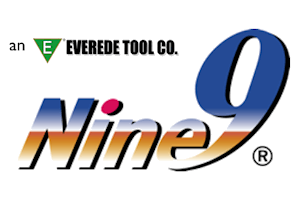 Nine9 Engraving Indexable Spot and Center Drills
Nine9 company began in 1994 and with the development of special tools, boring heads and accessories. The Nine9 logo was commissioned in 1999. It comes from the Chinese characters meaning "long life and durability", words which aptly describe all Nine9 tools. 99 is the largest 2 digit number, indicating maximum product endurance.
Nine9 tools are often considered "special" in the industry, but they are standards for Nine9: NC Spot Drills, i-Center indexable center drills, Engraving tools, Chamfer Mill, Deburring Tools, Indexable drills, Boring tools, NC helix drills – helical interpolation, Power Mill. These tools have established Nine9 as a market leader and innovator in the cutting tool field.